We moved - the lockdown has further fueled the idea of optimal working conditions in times of New Work. About two years ago, we had already started working intensively on our office of the future. We moved in on the 1st of May 2020. You are now welcome to take a look around at our new enomyc-office.
Admittedly, the decision to move into new office space was a bit behind schedule: as part of our rebranding, we had expanded our expertise, completed our digital transformation and started to live our cultural change. The crowning glory of the transformation was recently confirmed by the German Design Council in Berlin when we were awarded with the German Brand Award as the winner in the category 'Excellence in Brand Strategy and Creation'. "That is the confirmation: We have also completely convinced the demanding professional audience of our rebranding", says Julia Hammer, change agent and shareholder at enomyc.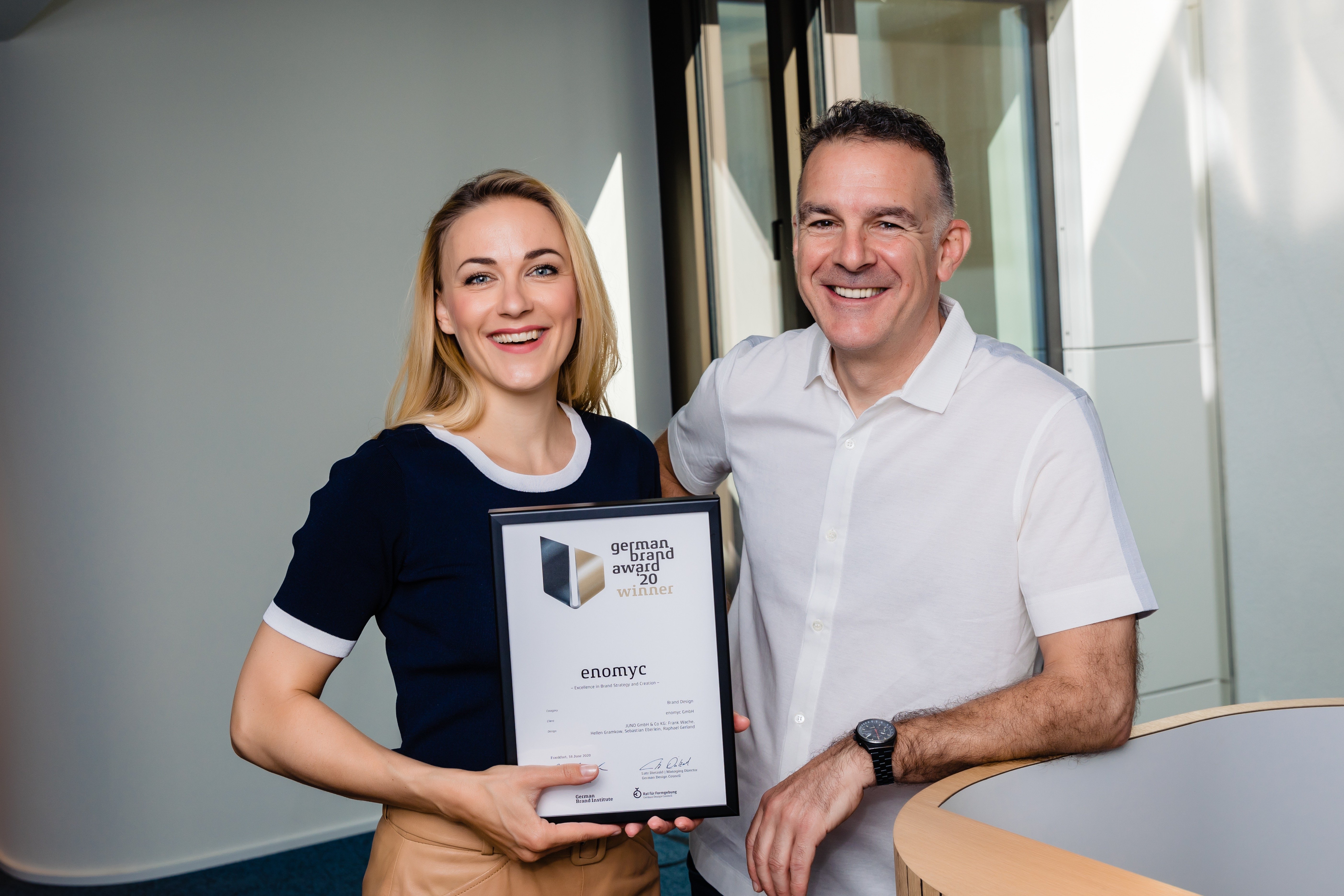 A completely new office concept has opened up for our team and our customers since the first of May - just two house numbers further than usual. Please come in and say hi!
PLANES AND ROOMS
What kind of premises do we need, even though our way of working will change? And how big does the whole thing have to be then? The analysis process for our move showed that we don't need to expand so much in terms of space - we need to divide ourselves up more efficiently and pursue our goal of becoming as paperless as possible.
For this reason, the areas of the new premises are not much larger than usual. They are different: They extend over two levels and accommodate different departments. So now all consultant offices are located on one floor. This is where collaborative and concentrated work takes place. Small, soundproofed telephone rooms line the corridor and offer privacy. The heart of the building is the largest room: our kitchen. More on this later.
We welcome our visitors on the floor above. In addition to our large meeting room, this floor also houses our reception, project management and accounting department.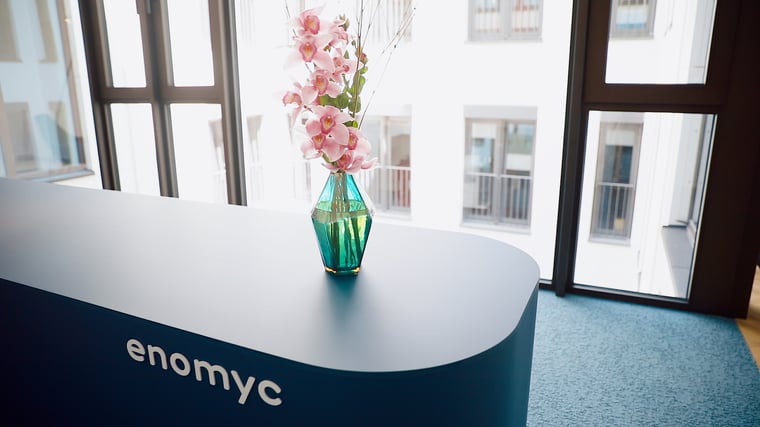 LIGHT AND COLOUR CONCEPT
When you enter our new premises, you are immediately reminded of modern coworking spaces. A bright lighting concept creates a friendly, open atmosphere. All rooms are flooded with natural daylight. This is made possible by large window areas and sound-absorbing glass walls. Modern lighting installations additionally provide pleasant, indirect light. We have based our choice of colors on science: Shades of blue ensure trust and well-being, a clear mind and development. White stands for clarity and freshness. Light grey tones promote concentration. In our working environment, this color world makes perfect sense. It is found in all rooms and reflects our logo - without depicting it.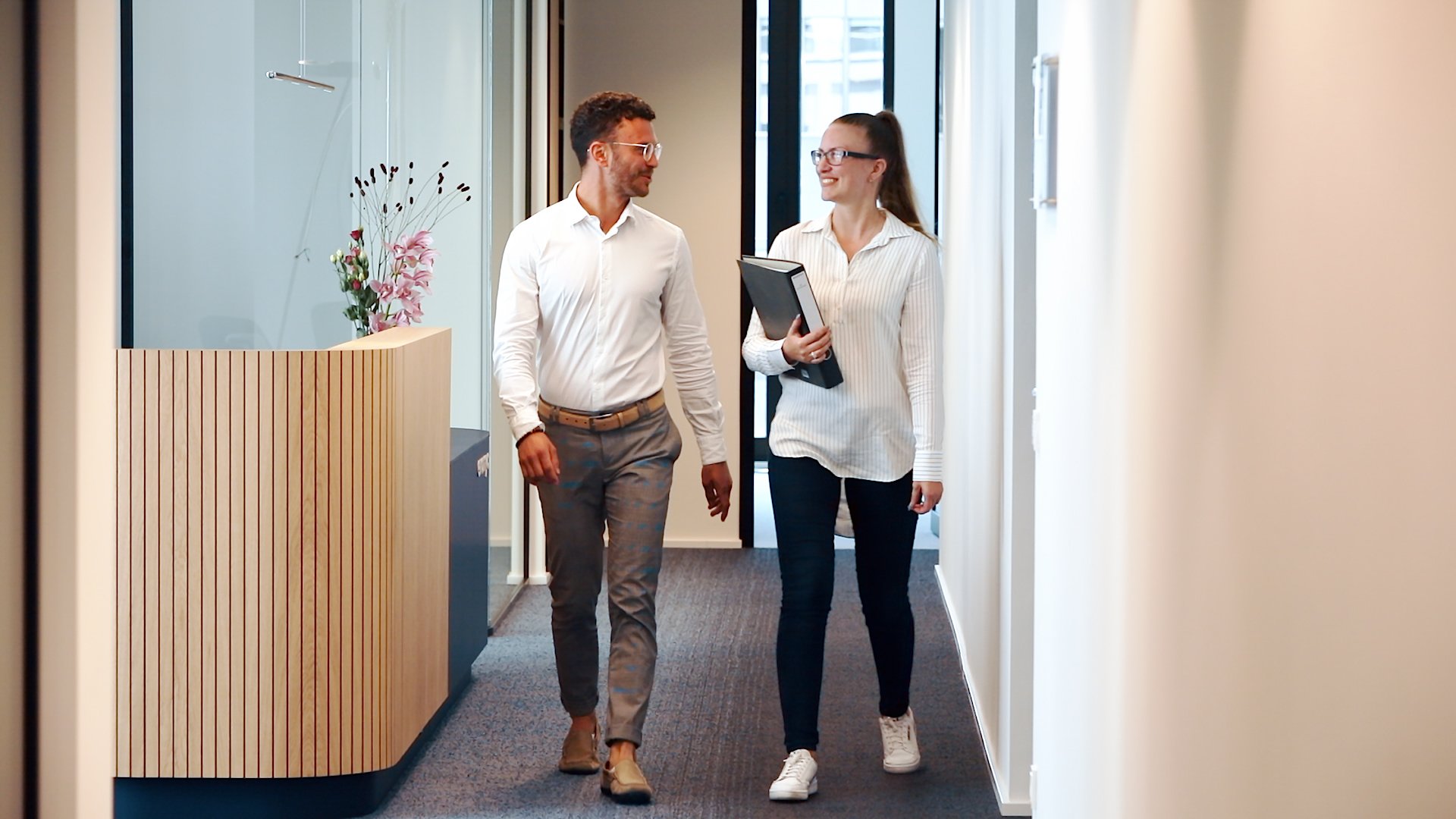 DESIGN AND MATERIALS
What forms express our dynamics? Which elements and materials underline our character? These questions have played an important role in the design and choice of materials. The design should follow the function. That's why we deliberately chose rounded pieces of furniture. Their soft edges stand for dynamics and flexibility. The transparency is provided by many large glass surfaces - both outwards and inwards. They stand for openness and cooperation, for sincerity and communication. No door is locked. Finally, hardly any other element expresses us as aptly as wood does: We are a medium-sized company - we are stable, efficient and results-oriented - creative, natural and full of the urge to develop! For this reason, our meeting room, which can be divided or extended depending on the size of the group, offers a spacious conference table that can comfortably seat up to 25 people with sufficient distance between them.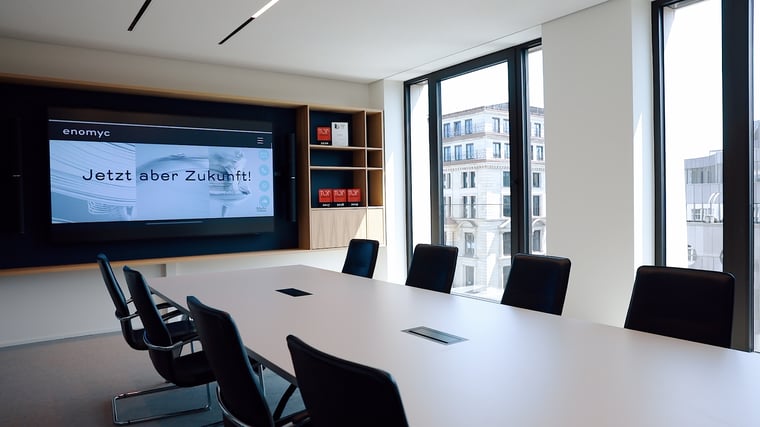 STATE-OF-THE-ART CONFERENCE TECHNOLOGY
How do we want to work in the future? Looking back on the past weeks in lockdown and the work in the home office, one thing has become clear: How quickly and flexibly we were able to react to the new conditions and take advantage of the opportunities offered by digitalization. Knowing this has shaped the way we work and reshaped our expectations of the possibilities of a traditional office. What are the new requirements and how can our office meet the new demands?
Long before Corona, we thought about how we could become more sustainable, minimize our business trips and hold meetings digitally at our premises instead. During the lockdown, we felt the importance of flawless communication via media technology - completely free of interference noise, technical failures, poor picture or sound quality - even more strongly. That's why we opted for state-of-the-art media technology in our new conference room right from the start: In future, up to 110 participants will be able to dial in digitally via our system to follow meetings, conferences and banking sessions in the highest resolution. The sophisticated microphone and video technology is dynamic and capable of capturing even large discussion groups cleanly and transmitting them in high-end quality.
COMFORT AND ERGONOMICS
We spend many hours sitting at our desks, highly concentrated in front of the screen and on the phone. What do we need in order to continue to work healthy, pain-free and motivated in the future? How can we promote the health of our team at a high level? We have conducted internal surveys, identified needs, tested ergonomic equipment and finally selected it together. Beyond ergonomic chairs, large screens and height-adjustable tables, there was another component that kept us busy: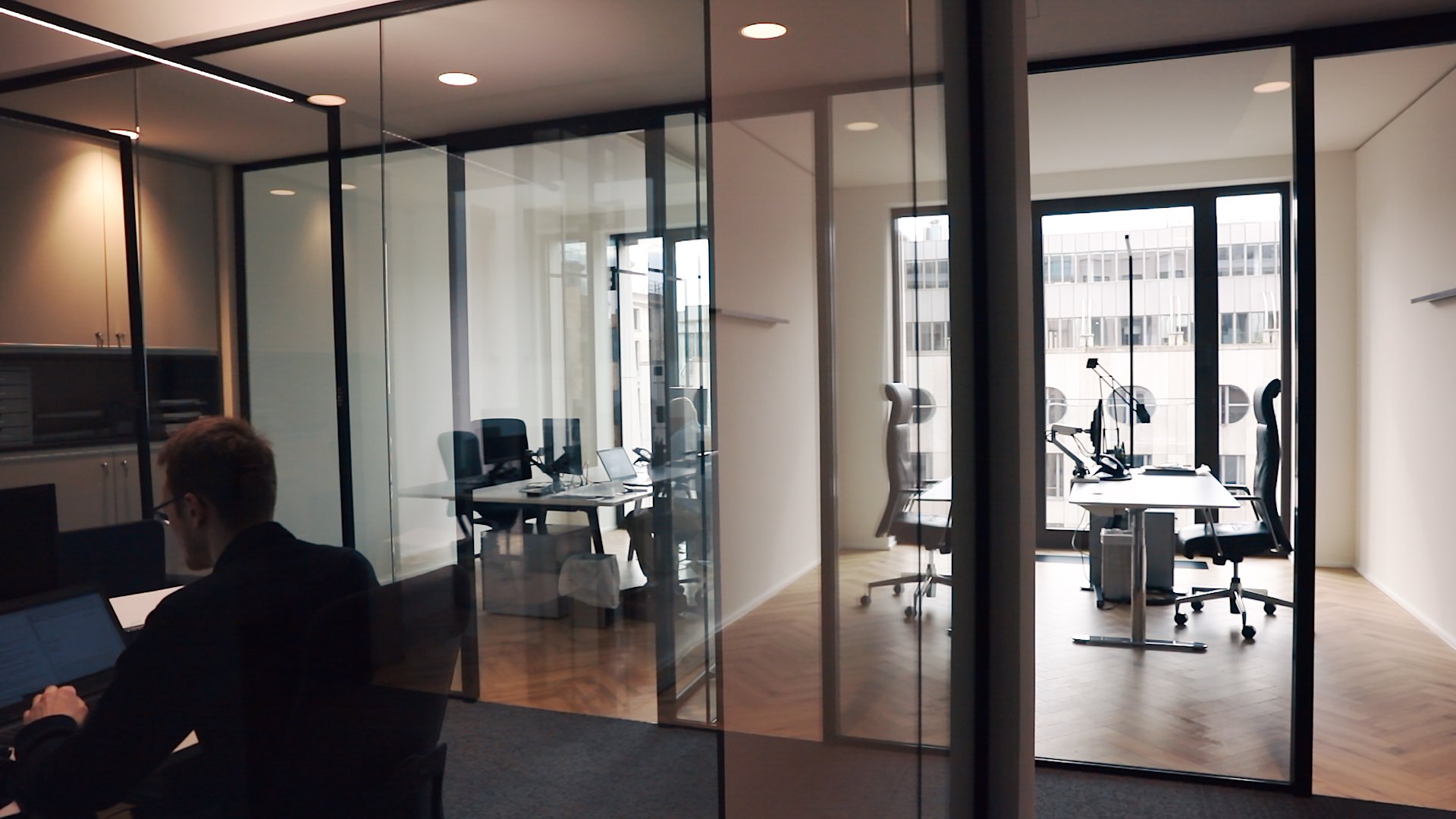 ROOM CLIMATE AND PLANT CONCEPT
If we are in nature, in the fresh air, surrounded by plants, then we are in our element. We feel comfortable and relaxed and gain energy and focus. However, we often work under great strain on complicated cases in the office and hardly manage to make the famous round the block. One of our most central questions was therefore How can we permanently reproduce more nature in our new rooms and how can we ensure a healthy indoor climate? We found the solution in a specially developed plant concept, which will soon fit quite naturally into our design. This plant concept will not only be a visual delight: it will contribute to a pleasant indoor climate. However, the room atmosphere is mainly supported by a modern ventilation system that charges the climate positively - even in the small telephone rooms. The high oxygen saturation and optimal atmosphere will ensure greater well-being and an alert mind.
KITCHEN IN THE HEART OF IT ALL
Which room describes conviviality and teamwork better than the kitchen? With us it is the largest room on the 4th floor. We deliberately chose it to be centrally located and by far the greenest of all rooms. Our heart is a meeting place for all colleagues. It invites you to take a break, to engage in a lively exchange, to strengthen yourself and to return to work with new energy. Even short scrums can be held in our kitchen - thanks to the latest technology and enough space for everyone. As is well known, even the best parties take place in the kitchen - one more reason for us to give it special attention.
Welcome to Neuer Wall 57! We are looking forward to welcoming you soon!
Get industry insights now!