Manufacturing companies can also act as solution providers through digitization. RASTAL has done well in proving this with its Smartglass® concept. How can products be digitized in a tangible way and innovations be successfully implemented?

We met RASTAL's managing partner Raymond Sahm and the strategy expert Dr. Stefan Frings of enomyc for an interview: what did it take to develop a good idea and to transform it into a functioning product with a profitable business model?
Mr. Sahm, you are the third generation of your family to manage the now 100-year-old RASTAL company. How did you experience the company's breakthrough in the 1960s?
RS: I was seven years old when RASTAL created the world's first branded glass: an exclusive glass design for Bitburger. That was in 1964, when I had not yet realized what a milestone the Bitburger glass actually was! Other designs followed: in 1969 the Warsteiner Tulip was brought to light, in 1976 the Veltins Cup, and in 1979 the first wheat beer glass for Erdinger. These unique shapes are brand icons that are still in use today.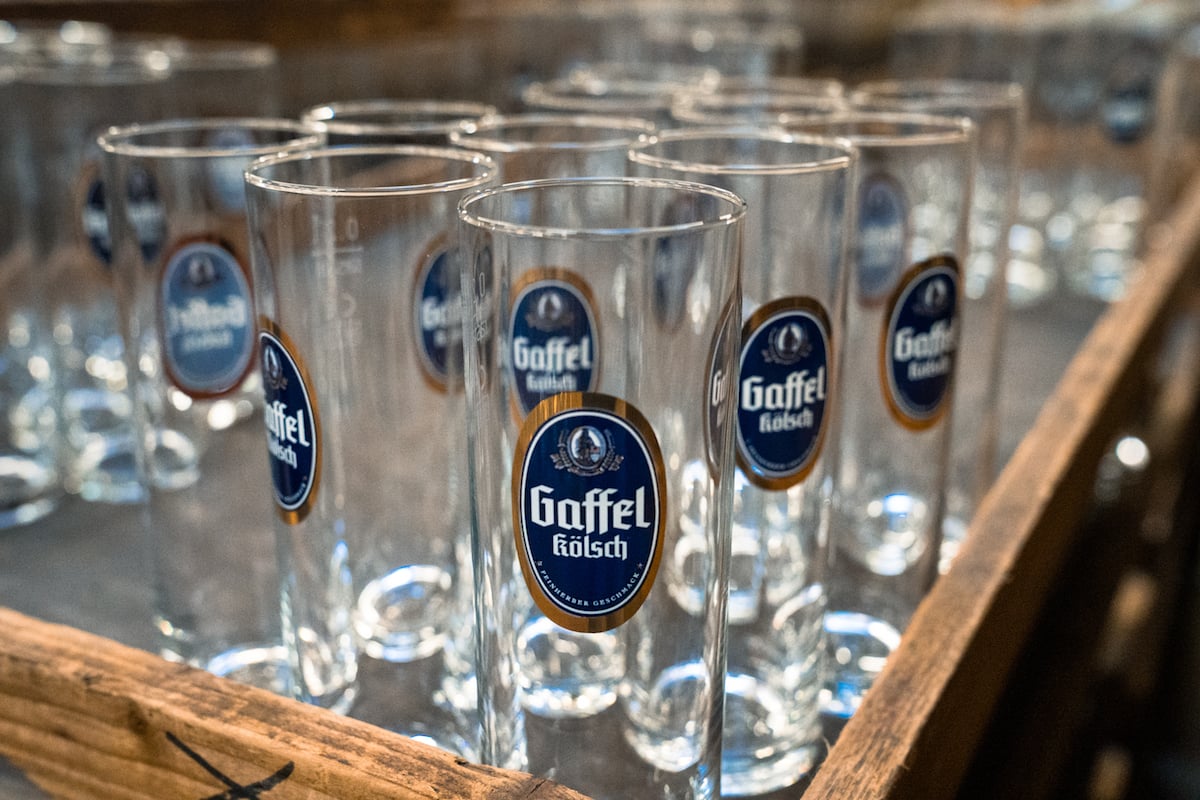 You joined the company in 1991. What has changed recently?
RS: Well, we are now considered the market leader and have won over 200 design awards worldwide with our exclusive glass designs – especially in the last four years. In 2016, we became "Brand of the Century" and are thus one of the strongest brands in Germany. Then, in May 2019, we received the GERMAN INNOVATION AWARD in gold for our RASTAL Smartglass® concept. We were the first manufacturer to dare to digitize a drinking glass.

Please tell me more about it: how did the idea and creation of Smartglass come about?
RS: Our motto is "Innovation from Tradition." We have, of course, actively been following the topic of digitization in the beverage industry. Many of our customers are increasingly going digital. It was clear to us that we must also digitally enhance our products.

But how do you combine the topic of digitization with a drinking glass? What added value could we create for our customers? These were some of the key questions we asked ourselves together with a technology agency. With a view to the topic of "networking and digitization," we finally developed the RASTAL Smartglass® concept. This enabled us to make our mark on digitization in the beverage industry. I am proud of that!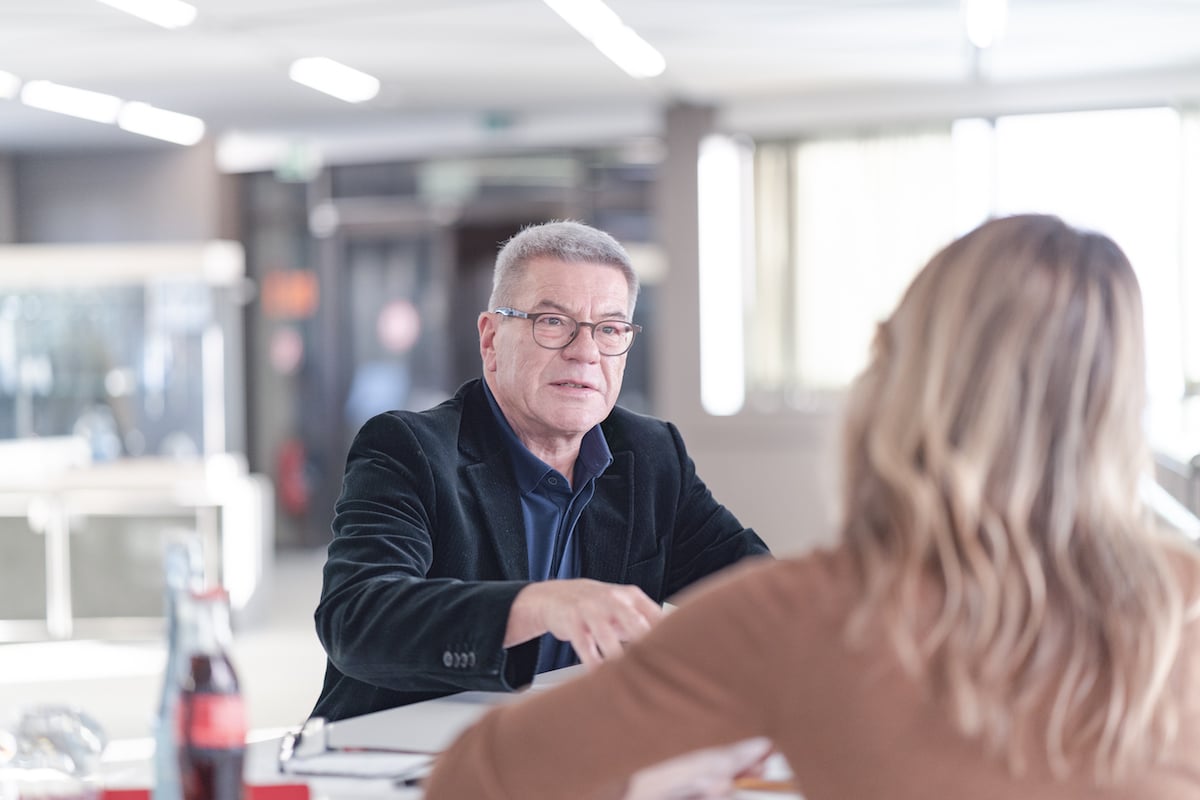 What exactly is the technology in Smartglass?
RS: We have connected the drinking glass with an RFID transponder. In this process, an NFC chip is permanently attached to the glass by means of Smartprint®. This is a special printing technology – patent pending by RASTAL. Each chip has a specific, individual code that can be replayed with new content for our customers again and again.

With the Smartglass, we are, for the first time, able to produce the "digital triad" in the beverage industry: we bring our industrial customers into an integrated interaction – both with the catering trade and with end consumers. This promotes customer loyalty and brand management at all levels.

How exactly does this work in practice?
RS: Most smartphones or tablets nowadays are NFC enabled: consumers simply hold their smartphone to their glass; the chip is read and they are connected to a digital application such as a website or an app. Together with experienced partners, we ensure the necessary data infrastructure and the basic requirements for data security throughout the entire process.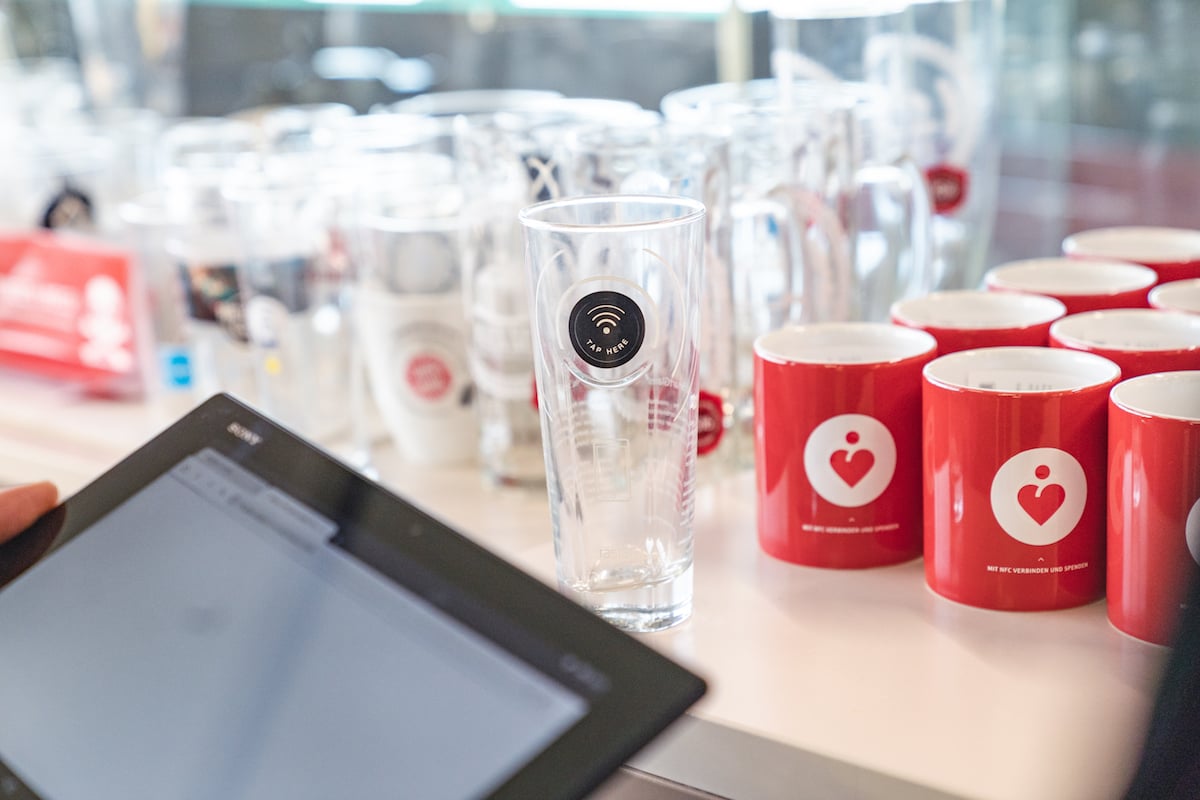 What exactly are the advantages for industrial customers and their marketing

RS: Communication and branding: Smartglass enables our customers to interact with consumers in real time – immediately while they enjoy the drink and without divergence losses. This ranges from broad-based campaigns to the personal approach of individual customers. The resulting data can help to optimize the supply chain and logistical processes involved.
The glasses can be coded to be customer-specific with current new marketing campaigns. In terms of efficiency and costs, this is difficult to beat compared to other marketing approaches. First and foremost, our industrial customers use smart technology to interact with their end customers on-site via interactive competitions or loyalty programs, thereby fueling direct consumption in the restaurant trade. This is extremely important for beverage brands in this sales segment.

What benefits do the end consumers derive from this?

RS: You become an enabler. Let's take the specific example of music festivals: normally, festival visitors queue up at counters and pay for drinks and cup deposits. We have tested the Smartglass at the Wacken Open Air Festival. For this, we developed a kind of digital vending machine with our partners. This digital bar made self-service possible: the vending machine recognized the fill level, what kind of cup had to be filled with which drink, and regulated the digital deposit system for reusable systems. The amount of money for the drink and deposit could then be paid cashless via app. The advantages here are: no crowds, always freshly tapped beverages, controlled self-service and payment solutions – all in all, a clear improvement in customer convenience.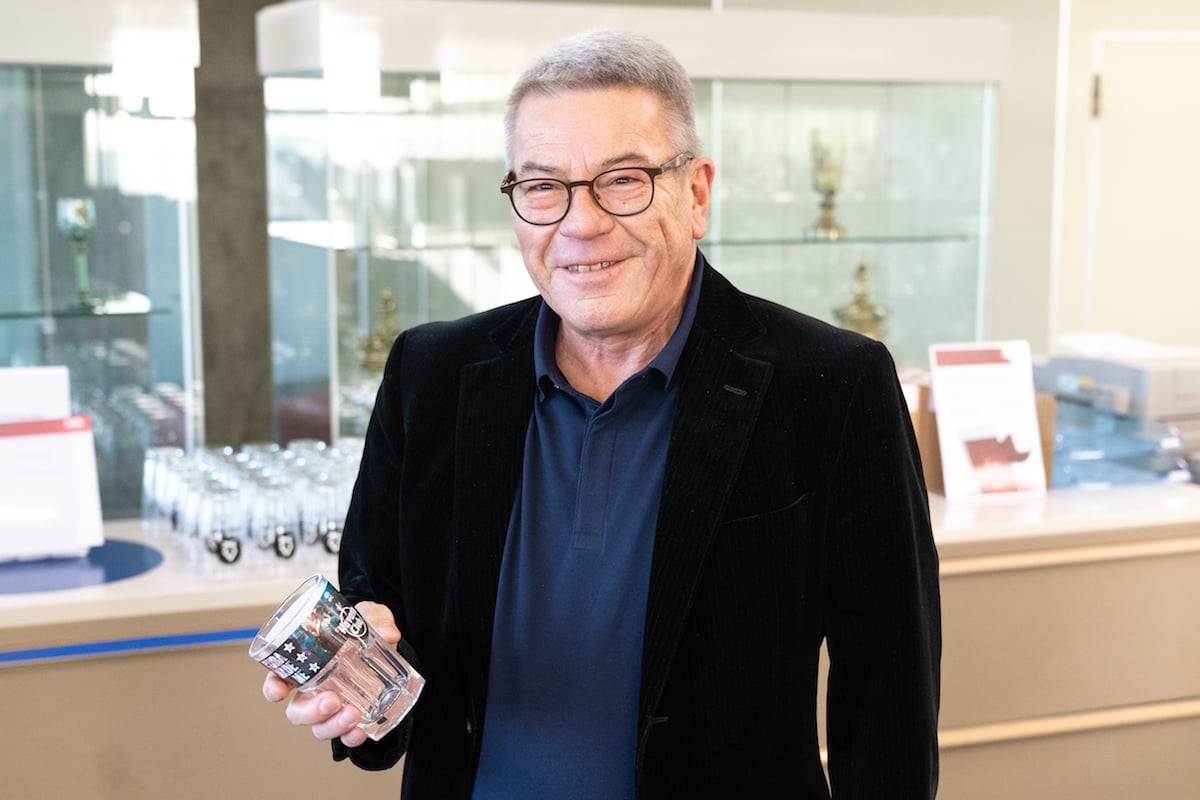 How does the catering industry benefit?

RS: Company restaurants can use the Smartglass to digitally control their processes, thus optimizing waiting times or even enabling self-service checkouts – in other words: you tap your drink with a RASTAL Smartglass® and all item information such as type of drink, fill quantity, and price are transmitted to the checkout fully automatically.
Caterers can also use the coded transponder to gain insight into which drinks are performing particularly well and can tailor their offer accordingly. They also receive information about when which drink needs to be reordered. This enables them to handle the ordering process and logistics with much less effort.
Here, too, are marketing benefits: any message can be sent to the target group relevant to the catering trade while they are consuming their favorite drink. Think of prize campaigns – from free beer to controlling a digital jukebox: the possibilities that Smartglass makes possible are endless. This new entertainment offering can help restaurant owners and operators differentiate themselves from others.

With the development of Smartglass, RASTAL has taken a step in a completely new direction. Were there any hurdles in this process and, if so, how were they overcome?
RS: Of course, there were hurdles that needed to be overcome. Through the digitization and development of a digital product and service concept, we are no longer "only" glass refiners. Even though business generated through this is still our core competence, we are also developing towards becoming a digital solution provider with a constantly growing range of services. In addition, Smartglass is a completely new concept that requires explanation and must be sold successfully alongside the core business. It is not easy to convince the German beverage industry of the advantages and benefits. A lot of groundwork and impetus is required in the sales activities.

Dr. Frings, you are a strategy expert at enomyc and are also supporting RASTAL in the integration of new business. In your opinion, what are the main factors for establishing new products on the market?
SF: There are many possibilities for process optimization in the areas of purchasing, production, logistics, sales, and order processing. I think the main success factors are speed and quality. Whoever is first to bring innovative products to the market is successful. For this, it is necessary to view and design the entire value chain from the customer's perspective. In this way, customer-oriented business processes are created that focus on customer benefit.
What does your experience tell you: how do good ideas become functioning products or even entire business models?
SF: Everyone knows: the road from a good idea to a successful product is usually a rocky one. Development must transform an idea into a product that is marketable. For production, manufacturing processes have to be designed and planned. Employees must be trained and suppliers must also be able to provide the necessary specifications. In addition, the costs must be marketable and competitive, and the sales department has to be able to market the new products in an attractive way. Finally, consumers have to be convinced that they also need these products.

In essence, these challenges are always the same – whether it is a car, a component, or a consumer good. Synchronized processes that are also embodied by those tasked with carrying them out, innovation-friendly structures, an efficient supply chain, and motivated employees are usually the keys to success.

What are the prerequisites for bringing a vision such as the smartglass to life and, after the prototype has been produced, to finally successfully realize series production?
SF: Competition is still the biggest driver of innovation. As it has been since the beginning of industrial production, in the end it is an entrepreneurial vision and the courage to break new ground. Lastly, a major innovation is also associated with a financial risk that should not be underestimated. According to Schumpeter, innovations are initially always the opinion of a minority.

Basically, it is about finding "allies" for an idea. On the one hand, these are customers who are available for a pilot application and see a benefit for themselves in the form of a strategic competitive advantage. On the other hand, it is the employees who design products and processes in an innovation-friendly climate.

What innovation potential do you see in the digitization and further development of business models?
SF: This is quickly told with an anecdote: at the beginning of the 1990s, when a certain MIT-Paper was coined as being the management bible for German management, so to speak, Mr. Lopez was asked by a colleague on the board of BMW what was new about lean management. Mr. Lopez replied: "If you haven't already realized what's new, you will have a lot of time to play golf." That's exactly the point: if you sleep through digitization, you will disappear from the market in the medium term. That's why good ideas and rapid implementation are booming.
I also see a second important aspect: economic history has shown that crises and external shocks always act as a catalyst for innovation and accelerate structural upheavals. The Corona crisis will not be an exception. It is already apparent that companies with a high level of digital maturity are coming through the crisis better than others. Companies with digital products are also amongst the winners within the crisis. For example, the video conferencing provider "Zoom" currently has a higher stock market value than the four largest airlines combined. Even if this is an exception, this comparison shows very clearly: Investments in digitization contribute significantly to increasing the value of the company.

Finally, Mr. Sahm, what advice would you like to give companies on the road to innovative products?
RS: Always start from the customer benefit point of view: what is the benefit? How can they obtain added value from your product that is so good that it inspires end consumers and binds them to your brand? Companies must have their finger on the pulse of developments, drive their core business forward, but also continue to develop it further. Digitization is driving innovations to the market at a rapid pace. It is therefore important to be awake, be observant of other markets, and to deduce from this what significance these developments have for your own product. It also takes courage: sometimes you "simply" have to dare to enter new territory.

Thank you very much for the interview.
RASTAL has developed a digital coffee mug for enomyc that you may be holding in your hands right now. Currently, the embedded link leads to this blog post. To try it, simply hold your cup to your smartphone or tablet. As you now know, the linked NFC chip can always be encoded with new content, as required. So, stay tuned for the content that will appear from checking the cup on your display in the future!
These issues might be of interest:
Get industry insights now!